PR 31/21 Mafnas shares vision for CNMI Customs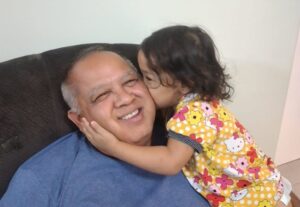 Suva, Fiji, September 21, 2021– Jose Mafnas is one of the most experienced Customs officers in the region with over three decades of experience. The head of CNMI Customs, however, makes sure he has time to also enjoy himself and more importantly with his family and friends either on picnics, fishing or just cruising the seas.
But the father of three best enjoys when with he is with his only grandchild, Breya (pictured) who he calls his princess.
What is the best part of your job?
Protecting our borders from the infiltration of illicit goods. However, I most especially enjoy meeting people and learning new ways to curb and detect illegal imports.  I value the skills and knowledge of my team and I work to ensure they have the same job satisfaction as myself.
What is your vision for your Customs administration?
I love sharing that my vision for CNMI Customs Biosecurity is E-Z! E = just as the eagles soar high, I expect excellence from my team.  The eagle is symbolic of strength and courage and I have faith in my team to carry out their duties of border protection with courage and strength, and the principles of truth and integrity.  Z = I am passionate about my job and thus, Z is for the zealous nature for my officers to detect contraband, energetically greet and assist taxpayers and genuinely be excited to report to duty.
How has COVID-19 changed the way your administration operates?
We work daily with the COVID 19 Task Force, with passenger clearances at the airport. Our officers ensure we are personally protected, dawning the required PPE supplies to protect our health.  Meetings, meanwhile, have transferred from in-person to online platforms in the beginning of the outbreak.  The CNMI moved to Community Vulnerability Level GREEN on June 18, 2021. As such, our face-to-face interactions have increased, though we all must still wear a mask.
What are some of the critical challenges your administration faces?
Funding.  It takes a significant amount of funds to ensure operations run smoothly without allowing the infiltration of illegal goods to enter our ports of entry.
Capacity Building.  While we have wonderful personnel, who are dedicated to the job, we are working towards attracting industrious personnel with an intensity to protect our island borders and beyond.
IT infrastructure.  We are transitioning from outdated computer hardware and software, to web-based systems.  This will also help our agency build electronic files in order to establish databases.  Once we have established databases, our proper recording of useful data increases our ability to apply for and receive grant funding, ensuring officers implement objectives and lessons from training events. 
If you were not head of a Customs administration, what would have been your ideal job?
A congressman or senator or may be a skilled worker either a heavy equipment operator or a mechanic.
For more information, queries, or interview requests, please email MediaOCO@ocosec.org
About OCO: OCO is a grouping of 23 customs administrations in the Pacific region. It facilitates regional cooperation, information sharing and capacity building of its members with the overall target of supporting economic growth and improved border security in the Pacific.