Read this document in French:
Click on the language tab found at the bottom right of your screen and select French.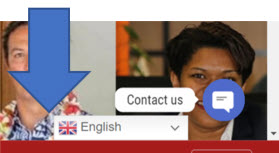 Suva, Fiji, January 26– Customs administrations across the region and the world are celebrating World Customs Day today, which has been themed "Nurturing the next generation: promoting a culture of knowledge-sharing and professional pride in Customs".
Here in the region, OCO also celebrates the graduation of 35 Customs officers from 15 countries with a Certificate IV in Customs Regional Administration from the Centre for Customs and Excise Studies (CCES) at Charles Sturt University in Canberra in partnership with the Oceania Customs Organisation.
"It is befitting that the graduation of our Customs officers, 17 of which are women is in the same week as the World Customs Day, which promotes knowledge sharing as well as professional pride in our work," OCO Operations Manager, Irma Daphney Stone said. "These graduates are now included in our pool of experts who can conduct training in their own countries or in the region."
Last year, CCES and OCO offered the first ever accredited training for fundamental Customs functions with 49 officers from 17 OCO member countries graduating with a Certificate III in Regional Customs ever, which was taught over eight months.
"This is an important milestone for the region as these courses are benchmarked against world standards in Customs training and the qualification is also recognised within the region and globally," Mrs Stone said.
The graduates are now skilled to train officers in their countries on border security, trade facilitation and revenue collection.
"An efficient Customs administration is important for any country because of the role it plays in ensuring that trade inflows and outflows are managed well. More importantly, Customs is also responsible for making sure there is a safe business environment for trade and countries are not infiltrated with illegal imports such as drugs or contrabands. To have an efficient administration, it is critical to have the right people with the right skill set," Mrs. Stone said.
Ends
For more information, queries, or interview requests, please email MediaOCO@ocosec.org
About OCO: OCO is a grouping of 23 customs administrations in the Pacific region. It facilitates regional cooperation, information sharing and capacity building of its members with the overall target of supporting economic growth and improved border security in the Pacific.