Preparatory works have begun for the World Customs Organisation (WCO) Master Training Program (MTP), which is expected to begin mid next year. The program will initially be rolled out to regional World Customs Organisation members.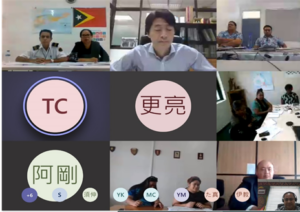 A virtual meeting was held this month with the World Customs Organisation Regional Office of Capacity Building, the Oceania Customs Organisation and customs officers from Fiji, Papua New Guinea, Samoa, Timor Leste, Tonga and Vanuatu to discuss the training.
The regional training program supported by the Japan International Cooperation Agency (JICA), Japan Customs, Regional Office for Capacity Building (ROCB), will build the capacity of customs administrations on a variety of key issues necessary for customs modernization.
The program includes the development of a pool of well-experienced trainers from customs administrations in the region and the development of tailor-made training materials that take into account the unique needs of OCO members including the smaller island states.
"The program will enable participants to be skilled enough to provide training in various areas of customs. We will have a group of skilled Pacific Islanders who will be valuable assets to their customs administrations and help develop Customs related revenue, trade and Border enforcement concepts in the Pacific " OCO Head of Secretariat, Richard Brennan says.
"COVID-19 has made future international travel uncertain. However, the ability to provide international-level training locally will be important for customs administrations moving forward, and there are more added benefits of having in-house training experts which we can utilize regionally when travel resumes. This will enable us to build towards a safer and secure Pacific through skilled front line border officials, Mr. Brennan adds.