Suva, Fiji, January 29, 2021- The WCO, the Regional Office of Capacity Building (ROCB), JICA, Japan Customs and OCO joint Sub-Regional Master Trainer Programme (MTP) preparatory meeting held on Tuesday, January 26 has identified Customs Valuation and the Harmonised System (HS) classification as two priority areas that need capacity building for WCO Accredited Trainers in the Pacific.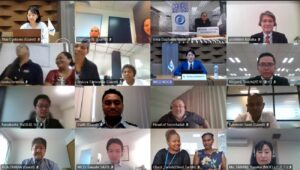 Customs Officers from Fiji, Papua New Guinea, Samoa, Timor Leste, Tonga and Vanuatu discussed training needs with officials from the WCO, ROCB, Japan International Cooperation Agency (JICA), Japan Customs, and OCO, who are supporting the Master Training Programme to be held later in the year.
"Capacity building is one of OCO's core functions. The COVID 19 situation has impacted our regional economies and our Political leaders have expressed a need to prioritise revenue security in the region. As a mechanism to assist this recovery, the Master Training Programme aims to develop a cadre of Customs Accredited Expert Trainers from Customs administrations in the region and to develop tailor-made training materials such as the WTO Valuation methodology suitable for the Pacific Region's needs," Irma Daphney Stone, Operations Manager shared.
"During the preparatory meeting, participants learnt of the African countries' successful experience of the Master Training Programme and see no reason why this program to be introduced in the Pacific Region should not be successful.
Participants agreed that the priority areas are in the order of Customs Valuation HS classification, Intelligence training and Post Clearance Audit.
For more information or for any queries, please contact the Secretariat or email: mediaoco@ocosec.org
ENDS