Read this document in French:
Click on the language tab found at the bottom right of your screen and select French.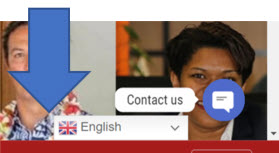 Tuvalu has reported a twenty per-cent (20%) increase in its revenue collection due to improved transparency, compliance and efficient clearance of goods, after it automated its customs management system.
This was revealed by the Deputy-Secretary General of the United Nations Conference on Trade and Development (UNCTAD), Mr Pedro Moreno during UNCTAD's regional workshop in Fiji on 27 March 2023. In highlighting the impressive figures, Mr Moreno shared that UNCTAD takes pride in its collaborations and partnerships that have yielded tangible outcomes in the Pacific.
While echoing similar sentiments, Director of Tuvalu's Revenue & Customs Department, Ms Sania Teisini shared the increased ease of doing business through UNCTAD's ASYCUDWorld customs management software, for both Customs and businesses in the country.
Launched in December 2021, ASYCUDAWorld has automated Tuvalu's import and export clearance processes. Prior to this, customs paperwork was processed manually. This was a time-consuming process that prevented customs officers from completing other important tasks and required traders to travel to import and export clearing points to physically present their documents.
"Paperless customs procedures have really made it simpler for traders. They are quite happy about this automation as they are no longer required to make frequent trips to the offices. We now mostly communicate through the ASYCUDA system."
Ms Teisini added that third party access to customs data is crucial to trade-related decision-making. For instance, she shared that the nation's planning and budget has direct access to data through the ASYCUDA system.
"In the past we had to extract this information and send it to them, but with ASYCUDA they can just log in whenever they want and get this directly from the system."
The price inspectors also have direct access and the data helps them monitor and regulate price controls on goods and services.
With more than a year since the roll-out of ASYCUDAWorld in Tuvalu, Ms Teisini stated that Tuvalu's Revenue & Customs Department has significantly improved on its IT infrastructure, change management and capacity building.
Organized by the UNCTAD's ASYCUDA Regional Office for the Pacific, the Supporting Trade Facilitation, Digitalization and Digital Transformation in the Blue Pacific workshop provided a platform for Heads of Customs and Senior Trade officials from 15 Pacific Countries to explore ways of achieving trade facilitation reforms through digitalisation and cooperation among government agencies.