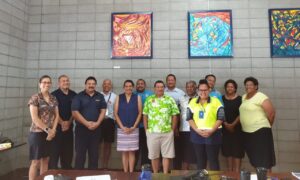 Through its capacity building programme to members, the OCO with financial support under the PACER Plus Project Readiness Package conducted a PACER Plus ROO Workshop & legislative consultation in Niue from 7-8 August, 2019 attended by officials from the Niue Customs and Treasury Department and private sector representatives.
The main objective of the workshop was to deepen the knowledge and enhance customs capacity on the implementation of PACER Plus ROO. The private sector stakeholder engagement provided the opportunity for consultation and questions on aspects of the Agreement and in particular on importation and exportation of goods. The stakeholders learned about the PACER Plus ROO and the benefits from the trade agreement and were also informed of the legislative review of the customs legislation compliance with customs provision of the PACER Plus.
The OCO is working with members to encourage ongoing consultations between customs administration and the private sector to enable them to make use of the opportunities available under the Agreement when it comes into force.