Read this document in French:
Click on the language tab found at the bottom right of your screen and select French.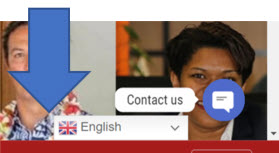 His Excellency, Mr. Aren Palik with OCO members and development partners following the opening of the 25th Annual Conference. Picture: SUPPLIED
Pohnpei, Federated States of Micronesia, July 20, 2023– Federated States of Micronesia Vice President, Aren B Palik has urged Customs administrations to think outside the box and include people and communities in their efforts to protect the vast Pacific borders.
Mr. Palik opened the OCO 25th Annual Conference in Pohnpei yesterday, which has been themed "Fostering an inclusive Customs that promotes knowledge-sharing and integrity for a stronger Pacific." 
"We are aware that our islands are in the drug routes from North Americas, we are used as transition points and this is evident from the number of drugs washing ashore on some islands," Mr. Palik said. "Sadly, we are no longer only the drug routes, we are also now markets. So, what can we do with what we have? How do you make use of our greatest asset- our people- and include them in your work?"
He added: "I believe that if our people are aware of the dangers that lurk at the borders, they would be more than willing to be part of the work to protect their homes and of course their children. People need to know of what is not allowed into their countries- the barred imports, the counterfeits, the banned foods and one of the easiest ways of doing that is to have a good communication mechanism that works and that suits them."
WCO Secretary General Kunio Mikuriya who provided a video message urged Customs administrations to nurture their future generation and place the tech savvy young Customs officers at the heart of their modernisation plans.
"Young customs officers are often more adept at technology and data management, but they may lack familiarity with the customs domain knowledge to fully integrate them into the administration and maximize their potential. Customs needs to establish and enhance systems for knowledge transfer to the younger generation," Mr Mikuriya said.
He added that Customs administrations around the world shared a common and wide-ranging mission, which included revenue collection, promoting economic competitiveness by facilitating trade and improving business environment, as well as protecting society from illicit trade and transnational criminal activities.
Because of the COVID-19 pandemic, OCO has not been able to hold the heads of Customs annual meeting in the last three years.
OCO chairperson, Mr. Randy Sue said: "The landscape of border security and trade facilitation has changed greatly in the last decade. An inclusive Customs that promotes knowledge sharing and integrity to build a stronger Pacific means working more closely with you all, building stronger relationships and creating tailor made solutions to meet our challenges."
He added: "Into the future, we need to work harder. Our ability to defend our borders is tested daily. We need to move with time and on time. And we will rely on our development partners for their continued support."
The annual conference will focus on combating counterfeits in the region through stronger enforcement of intellectual property rights, modernisation of Customs administrations including improving gender equality and diversity and knowledge sharing between other law enforcement agencies to curb transnational crimes.
"A futuristic looking OCO would be one where all members had interoperability capability, where we could see the movement of commodities in real time between countries for example," OCO Head of Secretariat, Ms. Nancy T Oraka said. "There is some work towards this with the assistance of the Australian Border Force Session, who will provide progress on the development of the desktop exercises concept OCO members that would build information sharing and track the movement of a commodities between member states.
"This development is very critical for the Pacific. We are targets of transnational criminals for drug smuggling or money laundering. Sharing information with law enforcement agencies must also be effective and timely."
Ms. Oraka added: "The region relies on us as the first line of defense at the borders. It also relies heavily on us to facilitate economic growth at the borders. We have huge responsibilities that if not managed well would have adverse impacts on economies and people. The economic, social and physical health of the Pacific is in our hands. Arguably, we are the only profession that has that type of responsibility. And with pride, integrity and passion, we must carry out these roles as Customs Officer's for a stronger Pacific."
ENDS
For more information, queries, or interview requests, please email MediaOCO@ocosec.org 
About OCO: OCO is a grouping of 23 customs administrations in the Pacific region. It facilitates regional cooperation, information sharing and capacity building of its members with the overall target of supporting economic growth and improved border security in the Pacific.