Read this document in French:
Click on the language tab found at the bottom right of your screen and select French.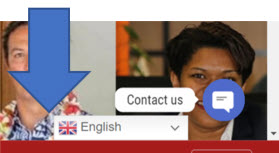 Suva, Fiji, June 01, 2023: Customs administrations in the Pacific are taking food fraud seriously, which could cause serious health risks to the region and harm economic wellbeing.
Oceania Customs Organisation Head of Secretariat, Nancy T Oraka says food fraud is not an issue that is widely discussed in the region but poses serious consequences considering that the region also has the highest rates of non-communicable diseases in the world.
"How sure are we that the foods we are importing are genuine and do not contain ingredients that will harm human or animal health?" Ms. Oraka said. "We have had instances in the past where certain foods have been recalled by health authorities because they have been intentionally altered, misrepresented, mislabeled, substituted, or tampered with and are being illegally sold in markets. Customs agencies therefore play an important role in ensuring that foods that enter a country are genuine and safe."
Ms. Oraka added that food fraud, food adulteration, counterfeit agricultural goods, wines, spirits and juice is an area that is being addressed with priority by Customs Administrations with Health Ministries in their countries.
"It is critical that we work with health ministries because we need them to provide us with proper and appropriate medical and scientific advice and they have that expertise," Ms. Oraka said.
"Customs border control officers and the Ministry of Health must work hand in hand to address the contemporary and rising issue of counterfeit agricultural products, adulterated foods, food fraud and counterfeit wines, spirits and juice. These products have contributing factors and are causing a threat and danger to public health and in turn economic wellbeing."
Recently, Customs officers from Fiji, Tonga, Niue, Vanuatu and Papua New Guinea attended the Indo-Pacific Regional Workshop on Enforcement against Food Fraud and Trade in Counterfeit Agricultural Goods in Thailand.
The officers, who also trained to become trainers acquired skills and knowledge on food adulteration, food fraud, mislabeling, substitution and misrepresentation of source of food and agricultural products.
They also learnt the laws regulating trade in food fraud cases, trademarks and the purpose of geographical indicators in Intellectual Property Rights and its importance in border control and enforcement units.
ENDS
For more information, queries, or interview requests, please email MediaOCO@ocosec.org
About OCO: OCO is a grouping of 23 customs administrations in the Pacific region. It facilitates regional cooperation, information sharing and capacity building of its members with the overall target of supporting economic growth and improved border security in the Pacific.