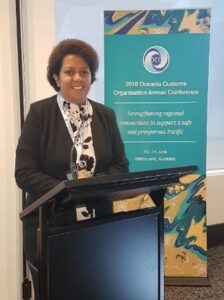 Suva, Fiji, 1 March 2021 – Laisiana Tugaga is the Trade and Revenue Adviser at the Oceania Customs Secretariat. A Fijian national, her career has spanned over two decades with 15 years spent in trade and customs. She is one of those women who are making footprints in Customs in the Oceania region and yet are modest about their achievements. This is her story.

Laisiana joined the Fiji Revenue and Customs Service (FRCS) 22 years ago as a young economics graduate and at a time when there were not many women customs officers.
The mother of three boys is now the go to person for the OCO member countries when they need technical advice and assistance on trade facilitation and revenue measures.
"One of the key aspects of my role is providing training to Customs officers in the region and assisting them to meet international customs standards," she says."Customs administrations play such a critical role in our economies in the Pacific, ensuring not only that they expedite border processes but also that they implement controls that secure revenue and protect our societies. "I see my role as helping OCO member countries achieve these goals whether through training, improving legislation and policies and developing their capacities to respond to these roles."
Early years
My inspiration has always been my late mother. She raised five children on her own when my dad passed away when I was only a year old, the youngest in the family. And through her perseverance, hard work and love, I learnt that I can do anything if I work hard for it. Laisiana also gives credit to her 11 year-experience in FRCS as the foundation for her career in the Oceania region. While she started as a Customs officer, she was eventually promoted as Economic Policy Officer and Manager International Relations. Her first regional stint was with the Melanesian Spearhead Group (MSG) in Port Villa, Vanuatu where she spent four and a half years before she joined OCO in December 2016.
"As I reflect on my early career days, I have had some good mentors, two of them were males who were willing to share skills and knowledge and guided me through a pathway for personal and career development and I am so grateful for that," she says.
"My work has also provided many opportunities to network with other women working in the customs area and through those networks, we are able to share experiences and better understand gender issues and challenges of their current work environment. "Some of the barriers they face are not specific to customs but a broader cultural mindset issues that will take time to improve.
"Nonetheless, there is an increasing number of women in customs now, and I believe they can affect significant and positive changes in their administrations."
PACER-Plus
From 2017 to 2019, Laisiana managed a project to help OCO members who are parties to PACER Plus to meet their obligations under the Agreement.
Through this work, she was able to see first-hand the challenges of small island economies.
"One of the positive outcomes from this project was the partnership with members to have a sustainable capacity building program through the Train the Trainer Program; where we train officers who will be able to provide training in their various Customs administrations," Laisiana says.
An important project which Laisiana has been part of is the development of the Pacific Harmonized Commodity Description and Coding System (PACHS) to assist members who had yet to implement the World Customs Organization Harmonised System.  The project also involved Customs guidelines for PACER Plus parties and additional resources to assist them in implementing the agreement.
"We also have had to take a gender lens in our activities and that is a challenge for male-dominated organisations like Customs," she says.
"At the end of the project, I am pleased that of the beneficiaries about 41 per cent of them were females.
Challenges of a working mother
"As a female, a challenge that I face is balancing work with home," she says. "I am a wife and a mother to three boys and trying to balance that with work demands is not easy at times."
While she is grateful for the support of her husband and family, Laisiana says the most important thing in her life is her faith in God.
"As I look back over the years, it is God's grace that has sustained me. I believe that God gives me the vision, direction, and creativity to do my work. That is why I love what I do."
COVID-19 challenges
"Since March 2020 my work has completely changed moving from what used to be face-to-face to virtual meetings and it's more challenging in the Pacific with internet connectivity issues. I have had to learn some new skills navigating through the various platforms such as Zoom, MS Teams and WebEx.
"However, I am finding that it is not only cost effective; it has allowed us to deliver training to more participants then the traditional training model."
But most of all, she is grateful that the pandemic has allowed more family time and she loves that.
Click Here for French Translation
ENDS
For more information or for any queries, please contact the Secretariat or email: mediaoco@ocosec.org
Our Gender Program: In 2019, the OCO held its inaugural Change Management on Gender Equality workshop, which suggested there should be gender equality on all aspects of OCO's work program. This suggestion was endorsed at the 2020 OCO Annual Conference. In 2020, OCO member countries were encouraged to celebrate the International Women's Day in their own administrations and to share their activities widely. This year, OCO is dedicating the month of March to our women. The Pacific Women in Customs Series is a collection of stories of women who are working in Customs in their various countries and we hope to inspire more women to join this field of work.