Read this document in French:
Click on the language tab found at the bottom right of your screen and select French.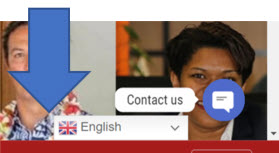 Suva, Fiji, 16 May 2023: Risk management is a crucial role of Customs officers at our borders- before an international flight lands at the Nadi International Airport, Customs officers would have profiled cargo and identified potential "risks". The exercise is necessary to prevent importation of illegal substances or objects. Laisa Kubuabola-Naivalurua leads the cargo profiling team at the Nadi International Airport, the team whose work daily aims to disrupt criminal activities and protect  Fiji's communities. Recently, she graduated top of the first cohort of Customs officers in the Pacific completing the Certificate IV in Customs Studies from the Center for Customs and Excise Studies of Charles Sturt University, Australia. Last year, she also topped the first cohort of Customs officers graduating with a Certificate III in Customs Studies from the university.
Balancing work and studies
Laisa joined Fiji Revenue and Customs Services as Team Leader in 2015, a bit unorthodox as most in similar roles were career Customs officers. But what she brought- a wealth of experience in financial intelligence- has complemented her work and role.
"I think many people don't realise how technical and demanding the Customs profession is and that it also requires a high level of integrity given the many stakeholders that we engage with," she says.
As the Principal Customs Officer for the Air Cargo Control Unit, Laisa's work includes managing and guiding a team of dedicated cargo analysts and cargo targeters that conduct risk assessment on airfreight and mails. The Unit was launched last year so her role has been important in the strategic and operational planning of the Unit. With an already busy schedule, juggling studies and her personal life was a challenge.
"I thank God for his guidance in helping me overcome the pressures of work, study and family life. I have a very supportive husband and we are blessed with a wonderful network of family and friends. I was determined to do well because I was not only representing FRCS but representing Fiji in the program. I had other colleagues in Nadi that were also enrolled in the program, so we were encouraging each other to ensure that we all excelled," she says.
Benefits of the course
Completing the two certificates in Customs studies, Laisa says, has allowed her to have a more holistic view of her work.
"I believe this course is relevant for any Customs officer as it covers all the key subject areas in Customs including tariff classification, valuation of goods, risk management and ethics and governance," she says.
"Each unit and module in the course was structured in a way that we had to understand the history and background of each Customs concept (the why) and review of our own country's application and implementation (the how). Another benefit of this program was that there were other students from Customs administrations in the region that also shared their experience, research and thoughts in online forums created by CSU.
"We were also fortunate to be learning from experienced academics."
She adds that it is important for Customs administrations to understand who their stakeholders are and how they can build and enhance these partnerships for the economic welfare and protection of communities.
"The importance of risk management in a modern Customs administration- it is the game changer for Customs as it allows us to focus our limited resources on high-risk interventions. The basis of what we do as a law enforcement agency is determined by our legislations and regulations which need to be constantly reviewed and updated with the change in times. As a customs administration, we also need to be fair and transparent in how we enforce these laws."
Customs journey
Laisa would perhaps be always thankful to a friend who sent her the FRCS vacancy, at a time when she had resigned from the Reserve Bank of Fiji's Fiji Financial Intelligence Unit and preparing to move to Nadi.
"It has never been a dull moment since I joined and despite the challenges, I have not regretted the change in my career.
"To be honest, I did not plan for a career in Customs. I wanted to be a doctor when I was young but after switching to commerce studies in university, there were three places that I was hoping to secure a job in Fiji: Reserve Bank, Fiji Airways (then Air Pacific) or a commercial bank.
"I only became more familiar with the work in Customs after joining the Fiji Financial Intelligence Unit (FFIU) as an Intelligence Analyst. At that time, I liaised with Customs officers at different levels and that included Customs officers that were seconded to FFIU and senior Customs officials that contributed to the Anti-Money Laundering Law Enforcement Working Group meetings where I was the secretary. It was my career at FFIU that sparked my interest in law enforcement work."
She has no regrets given the unique and important role that a customs administration plays in a country and in the region.
"I joined as a team leader so my entry into the profession was unorthodox, but I believed that I had been given this opportunity to serve so I was thankful and determined to give my best. Fortunately, there was also an abundance of experience and knowledge in the organization that I could draw from. Over the years, I had to also learn to be bold in my contribution and I hope that in some way I am having a positive influence in the profession. "
Future aspirations
Laisa hopes to pursue further studies: "My parents have always placed a lot of emphasis on the importance of education, which I had also learnt from my grandfather and my extended family.
"I would like to thank OCO and CSU for securing this partnership and having the insight to develop such a programme for Customs officers in the region. I would like to also thank the FRCS Executives, my managers, and my team for their support during the past two years from when I started Certificate III and now completing Certificate IV. I hope that this program will continue in the region and that our local tertiary institutions will also see the need to continue developing similar specialized Customs programs."
ENDS
For more information, queries or interview requests, please email MediaOCO@ocosec.org
_________________________________________________________________________________
About OCO: OCO is a grouping of 23 Customs administrations in the Pacific region. It facilitates regional cooperation, information sharing and capacity building of its members with the overall target of supporting economic growth and improved border security in the Pacific.