The Oceania Customs Organisation represents the interest of 23 member countries in the Pacific region. Its mission is to facilitate and where appropriate help customs administrations align with customs international standards and best practice leading to greater economic prosperity and increased border security within the Oceania region.
The OCO is pleased to announce the appointment of Mr. Alfereti Vamarasi as its new Finance and Corporate Services Manager and farewell of Mr. Kelemedi Gukirewa who has completed a 12-month Secondment with the Secretariat.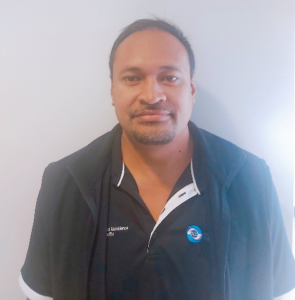 Mr. Vamarasi has eighteen years of experience in the field of finance and human resources, holding senior management roles in agencies in the Cook Islands and Fiji. In his role, as Finance and Corporate Services Manager he is to provide overall management and coordination for the Secretariat to operate and implement work program and budget. This includes building and maintaining strong relationships with members, donors and development partners and effectively managing the staff in the Finance & Corporate Services area through empowerment, motivation and coaching.

Mr. Kelemedi Gukirewa was seconded to the Secretariat as the Technical Assistant – APAN where he oversaw the effective management of OCO information APAN System. He coordinated the development and management of APAN building a network of users throughout the membership. The OCO would also like to take this opportunity to extend our gratitude to the Fiji Revenue Customs Service for availing Mr Gukirewa and in assisting the Secretariat to deliver services to our members. We look forward to your continued support in strengthening our partnership.
We hope that you will join us in thanking Kelemedi and welcoming and supporting Alfereti in his new role.