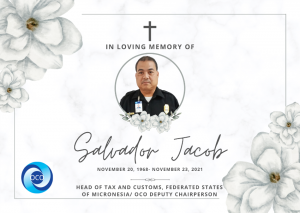 Suva, Fiji, November 24, 2021– The Oceania Customs Organisation (OCO) is mourning the loss of Mr. Salvador Jacob, its deputy chairperson and also head of the Tax and Customs Division of the Federated States of Micronesia (FSM).
Mr. Jacob passed away after a short illness on November 23, 2021, three days after his 53rd birthday.
"We will miss Mr. Jacob as he made immense contributions to the region as the chairman of OCO last year and as the deputy chairman this year," OCO Head of Secretariat, Mr. Richard Brennan said. "He was passionate about the work of Customs and had a vision to modernise the FSM's Customs administration."
Mr. Jacob started with the FSM Tax and Customs Division in 2008 as manager of the tax audit and compliance branch and was promoted to his current position in 2013.
"We send our sincere condolences to his wife, his four daughters, son and four grandchildren. We know his family meant so much to him," Mr. Brennan said.
Mr. Jacob's last interview held in August on his modernization plans for the FSM can be found here.
ENDS
For more information, queries, or interview requests, please email MediaOCO@ocosec.org
About OCO: OCO is a grouping of 23 customs administrations in the Pacific region. It facilitates regional cooperation, information sharing and capacity building of its members with the overall target of supporting economic growth and improved border security in the Pacific.