The Oceania Customs Organisation (OCO) in collaboration with the United States Patent and Trademark Office (USPTO), the International Trademark Association (INTA), the Pharmaceutical Security Institute (PSI), and React successfully organized a Regional Workshop on Customs Intellectual Property Rights (IPR) Enforcement in Nadi, Fiji from 12-14 February 2020. Preceding this on the 11th February an information sharing platform training was conducted by OCO together with the International Narcotics Control Board (INCB) on the APAN as well as the IONICs information sharing platforms. The workshop was attended by 16 senior customs staff (11 male/5 female) from 13 OCO member countries. Presenters included the USPTO, OCO, INTA, U.S. Customs and Border Protection, INTERPOL, PSI, React, Phillip Morris International, Fiji's Intellectual Property Office, Fiji Pharmaceuticals & Biomedical Services and the Consumer Council of Fiji.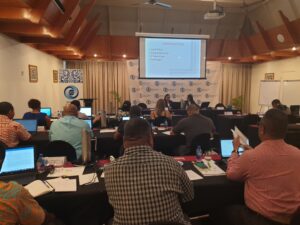 The Customs staff attending the workshop gained a solid understanding of Intellectual Property Rights and how it impacts their respective nations around the Pacific. They were particularly appreciative towards information on false medication that is entering the Pacific through people buying these counterfeit products on line and what it takes to tackle that issue. By gaining an appreciation to better detect and enforce this aspect of Customs work the national administrations can collectively assist in making the Pacific more secure and meet the aspirations of the Pacific Island Leaders in greater security for the Pacific.
Whilst some administration are more advance than others, all agreed that a holistic approach is necessary through building awareness. Customs have a key role to play, not only to facilitate trade and investment but also to protect local businesses and communities. Customs cannot do this in isolation but in consultation and collaboration with key stakeholders. In moving forward participants agreed to utilize the APAN and the IONICs information sharing platforms to work collaboratively through information sharing. Peter Fowler, USPTO Senior Counsel for Enforcement shared that "The workshop organized with the OCO was an excellent opportunity to raise awareness about the relationship between intellectual property (IP) protection and enforcement at the border and public health and safety concerns for consumers. It was an opportunity to encourage OCO members to become more proactive in seeing IP enforcement as a part of border security."
The OCO Head of Secretariat, Richard Brennan highlighted that this is a new concept for some of the administrations attending and it would not have been possible without the OCO-USPTO memorandum of understanding signed in October 2018, to strengthen existing intellectual property enforcement systems by establishing a mechanism for regular exchanges of information and for undertaking cooperative activities.