Read this document in French:
Click on the language tab found at the bottom right of your screen and select French.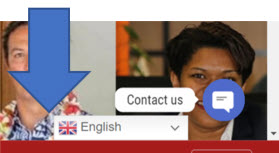 Suva, Fiji, June 01, 2023: Five Customs officers from the region recently completed a training by the Australia Pacific Security College in Nadi, Fiji aimed at improving the detection   and prevention of transitional crimes in the Pacific.
The course, Networks of Insecurity- Transnational Organised Crimes, was also attended by Immigration and Police agencies.
"We are grateful to the APSC for continuing to support Customs, Immigration and Police agencies and our work in the prevention and detection of transnational crimes in the Pacific," said Ms. Nancy T Oraka, Head of Secretariat, Oceania Customs Organisation.
The APSC course, which aims to strengthen the regional security comprised of case studies, evidence-based research, group exercises and expert speakers from across the region and internationally. 
Participants also learnt about relevant conceptual frameworks and gained analytic insights on transnational organised crimes in the Pacific.
They also analysed key trends, actors and drivers that drive the transnational crime in the Pacific and evaluated the current approaches to combat TNOC in the region.
OCO participants were from Cook Islands, Fiji, Federated States of Micronesia, Samoa, Solomon Islands.
ENDS
For more information, queries, or interview requests, please email MediaOCO@ocosec.org
About OCO: OCO is a grouping of 23 customs administrations in the Pacific region. It facilitates regional cooperation, information sharing and capacity building of its members with the overall target of supporting economic growth and improved border security in the Pacific.