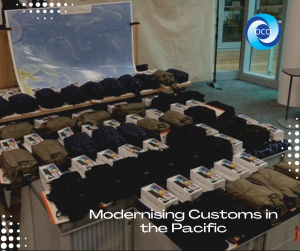 Suva, Fiji, December 1, 2021– As borders around the Pacific region prepare for re-opening, Customs administrations are also leveraging their capacity in border security.
Ten OCO member countries- American Samoa, Cook Islands, Guam, Federated States of Micronesia, Kiribati, Niue, Papua New Guinea, Palau, Solomon Islands and Vanuatu- are recipients of mobile phones and search kits provided by the Australia Boarder Force to leverage their efforts in using the small craft app.
Also, included in the kits are equipment and tools to help Customs officers when they board vessels or during rummage exercises.
Rummaging is the intensive search of a vessel or aircraft, suspected of concealing contrabands and antisocial goods.
Customs officers do not rummage all vessels or aircraft but those that have been identified during the targeting and risk profiling process.
The mobile phones will help OCO members track the movement of small crafts through a mobile app called the OCO Pacific Small Craft App (OPSCA), which was developed by the Australian Border Force (ABF).
The use of the phones and the app also enhances the sharing of information between agencies as it would be more efficient and timelier.
OPSCA also leverages the analysis capability of Customs administrations on movement of yachts in the Pacific and adds value to intelligence gathering on small crafts.
Whilst the ABF is supporting members with the mobile phones, they also deployed to OCO funding support to members for data lasting a year.
Small craft remain a high threat to all countries in the Pacific for several illicit activities, including the movement of weapons, drugs, and people.
Ends
For more information, queries, or interview requests, please email MediaOCO@ocosec.org
About OCO: OCO is a grouping of 23 customs administrations in the Pacific region. It facilitates regional cooperation, information sharing and capacity building of its members with the overall target of supporting economic growth and improved border security in the Pacific.