Read this document in French:
Click on the language tab found at the bottom right of your screen and select French.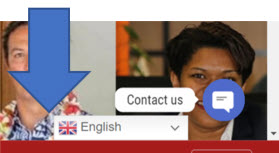 Suva, Fiji, September 21, 2022– The Oceania Customs Organisation members have approved their Strategic Plan 2022-2027, making a commitment to improve standards and processes to facilitate trade, increase revenue collection and maximise efforts on border security as they face the increasing challenge of transnational crimes in the region.
The OCO 2022-2027 plan was approved during the OCO's annual conference, with members agreeing to work together to address the region's common challenges. All OCO members have now signed the OCO agreement on Customs cooperation after the French territories- New Caledonia, French Polynesia and Wallis and Futuna signed the agreement during the conference.
"The last two years have been tough because of the COVID-19 pandemic and our members are still recovering from its lingering impacts. How we place ourselves for the future, particularly our plan in the next five years is important because it needs to recognise the development challenges of the OCO membership as well as be relevant in the execution of our core role in keeping our borders safe and facilitating trade," OCO Chairman and Federated States of Micronesia Head of Tax and Customs, Randy Sue said.
Members also approved the OCO Budget and work plan for the next three years.
OCO Acting Head of Secretariat and Operations Manager, Irma Daphney Stone said developing the skills of Customs officers was a top priority.
"It's a careful balancing act- if we are going to automise systems and processes then we must also make sure that we are developing the capacity of officers to use and operate these systems," Mrs. Stone said.
Meanwhile, OCO has appointed new representatives of the three sub-regions Micronesia, Melanesia, and Polynesia to serve on the OCO Steering Committee for the next two years.
The new appointees are Palau (Micronesia), Solomon Islands (Melanesia) and Tuvalu (Polynesia), whilst Australia, New Zealand and Fiji are permanent members.
As the host of the next OCO Conference, Federated States of Micronesia is the incoming Chair and Fiji is the Vice-Chair as they will be host in 2024.
The Communique of the 21st OCO Conference can be found here:

ENDS
About OCO: OCO is a grouping of 23 customs administrations in the Pacific region. It facilitates regional cooperation, information sharing and capacity building of its members with the overall target of supporting economic growth and improved border security in the Pacific.