December 03, 2020– Customs and Immigration officers in the region are being trained by the Australian Border Force (ABF) to use the Pacific Small Craft Application, which has been developed for the Pacific by Australia's Department of Home Affairs and the ABF.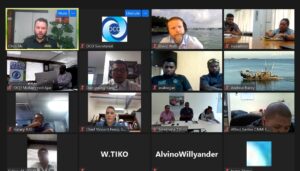 Since mid-November, Customs and Immigration officers have been attending the two-hour weekly Virtual Train the Trainer Courses on the Pacific Small Craft Application (the App) , which ends mid-December. The App was developed by Australia's Department of Home Affairs and, together with the ABF, is being rolled out to members of border agencies, such as OCO and the Pacific Immigration Development Community (PIDC), who are engaged in entry and departure of small craft.
"This is an important technology to build the capacity of our law enforcement officers in the region," OCO Acting Head of Secretariat, Irma Daphney Stone said. The number of small craft movements across the Pacific is projected to grow over the next five years, making it more difficult and expensive to manage the movement of vessels and crew effectively and safely.
"Small Craft tourism is a vital revenue resource for the Pacific so there is always a balance to be made between facilitation and compliance needs. The App is still at the testing phase once it is rolled out it will also have positive impact for safety of life at sea as well as ensuring the growth of the small craft market sector is not negatively impacted."
The App is developing innovative, low cost piece of technology that will assist border agencies with information collection and sharing, and leverage the analysis capability on movement of vessels in the Pacific. The App will be adding value to intelligence gathering on small crafts and prepares the Pacific to take proactive approaches for any suspicious small craft movement.
The course is held virtually and is coordinated by OCO and the ABF's Pacific Engagement and Capacity Building Team. "The App is an enabler for the Pacific nations to keep one data set on the movements of small craft and unifies the region's battle against combating the unscrupulous masters or operators," Mrs. Stone says. "The silo operations are being eliminated and a unified operation is beginning to occur. The Blue Pacific is coming together with one aim and that is to make the Pacific a safe home for the citizens and a safe holiday destination for its visitors."
The training has been attended by 37 participants from Customs and Immigration Administrations from the Commonwealth of the Northern Mariana Islands (CNMI), Fiji, Federated States of Micronesia, Guam, Kiribati, Palau, Papua New Guinea and Vanuatu.
Future virtual training workshops will be held in 2021 at the request of members within the OCO and PIDC.
If members would like to be part of future training workshops, or would like a dedicated workshop for their agency, please contact pacific@abf.gov.au or info@ocosec.org .
ENDS