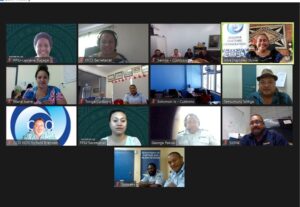 Suva, Fiji, November 18, 2021– Almost a year since the PACER Plus agreement came into effect, countries met to discuss opportunity areas in the implementation of the trade tool.
Oceania Customs Organisation (OCO) and the PACER Plus Implementation Unit (PPIU) convened a virtual workshop of trainers this month from Cook Islands, Kiribati, Niue, Samoa, Solomon Islands, Tonga, Tuvalu and Vanuatu to review the capacity of these islands in the implementation of the Rules of Origin (RoO) of the PACER Plus agreement.
Customs administrations determine duties or impose restrictions on products depending on its country of origin.
RoO is the criteria of determining the source of goods and its correct application is critical in the implementation of the PACER Plus agreement, for the collection of accurate trade statistics and revenue collection as well.
"OCO had helped countries prepare for the implementation of the country through training of trainers and we will continue to do in future," Richard Brennan, Head of OCO said. "This latest workshop was to take stock of the progress of RoO capacity building at national level in the countries, share experiences and knowledge and discuss opportunities for further strengthening competencies of the trainers."
From December till February 2022, RoO Trainers will run national training on the subject which will be supported by the PPIU and OCO in the eight countries that have ratified PACER Plus.
For more information, queries, or interview requests, please email MediaOCO@ocosec.org
About OCO: OCO is a grouping of 23 customs administrations in the Pacific region. It facilitates regional cooperation, information sharing and capacity building of its members with the overall target of supporting economic growth and improved border security in the Pacific.