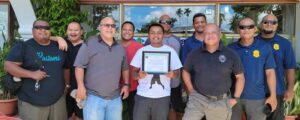 Customs officers in Palau celebrate the achievement of Customs officer, Alomar Kumangai. Pic: SUPPLIED
Suva, Fiji, August 31, 2021– Every training that Customs officers go through must be applauded because it means a notch up in our abilities to protect our borders, to protect families, communities and nations from being infiltrated with illicit drugs, human trafficking and other illegal activities.
Palau's Bureau of Customs and Border Protection (BCBP) recently celebrated one of their own, Alomar Kumangai for completing a three-month K9 Training course, which makes him a qualified dog or K9 handler.
"He demonstrated the highest level of unwavering commitment, selfless dedication to duty and exceptional service to our mission," Officer in Charge of BCBP's Drug Detector Unit, Mayer Julius said.
The team celebrated Kumangai's achievements over lunch with a team from the Bureau of Public Safety and the Narcotics Enforcement Agency (NEA), where both parties also discussed matters of common interest and possible operations to deter drugs and other crimes in Palau.
Kumangai will be furthering his education in Hawaii.
For more information, queries or interview requests, please email MediaOCO@ocosec.org
About OCO: OCO is a grouping of 23 customs administrations in the Pacific region. It facilitates regional cooperation, information sharing and capacity building of its members with the overall target of supporting economic growth and improved border security in the Pacific.