Suva, Fiji, February 10, 2022. Vincent San Nicolas Perez, 57, (pictured with family) is known as Chief Perez at Guam Customs.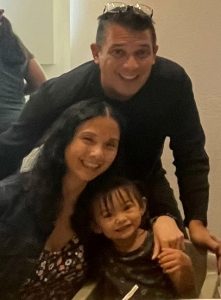 He has had more than three decades of experience in various sections and divisions of Customs such as inspection, the canine unit, and narcotics enforcement including Internal Affairs, which means he has seen it all- from house raids to dealing with hard drugs. While he became Chief in 2017, Mr. Perez states he was initially rejected by Customs when he first applied as a Customs Officer, and that rejection letter was the motivation for him to continue to try harder. He has kept that letter hanging on the wall to remind him how far he has come. However, he attributes his success to his family- his wife, Mary, and son, Jacob, who have been his backbone throughout his professional journey.
What's the best part of your job?
Working with capable people who share the same vision to improve our capabilities to protect our borders. Working with people with a diverse set of views- the nature of the work is such that you meet people who you can learn and mentor from.
Another great part of my job is seeing projects come to life- when we embark on something strategically that is developed from nothing and you see the positive change instituted and seeing it starting to work. Guam Customs is a young entity, we used to be called the Port Security Division (1952) many years ago. Now we are operating out of five ports entry. We have a lot of governmental and federal mandates we must take care of that impact us. So, we've been growing but sometimes if you don't try to take the time to make things better, you're never going to make things better.
What are some of the critical challenges Guam Customs faces?
So, we've been challenged for quite a few years with a couple of things, one of which is modernization- moving towards a more technological platform in our approach towards risk mitigation and conducting business.
Secondly- Our mandates are stuck between the 50s and possibly 70s, my vision is to strengthen our mandates and move towards a computerised technical platform using the concepts that I've learnt from OCO on single windows. We have been so entrenched in writing things down on a piece of paper or in a physical logbook, but things have changed- technology has grown leaps and bounds.
We need to change with the times. We need a way to be able to conduct a logical risk assessment with all the available data points for the inspector at the ports of entry, by inputting initial entry information on incoming passengers, or freight.
We want to try and facilitate passengers, freight, and trade much more effectively and efficiently. Because I would rather, we spend our time searching or inspecting a person coming in with drugs then the legitimate visitor who is just here for the weekend to do things. I want to get him out on the streets enjoying the island, spending his money, having fun.
I'd rather we inspect a container that has narcotics in it than a legitimate shipper who always pays his duties and always has the right documentation. Because once you start to do the risk mitigation, you can narrow it down to conduct 5% physical inspection as opposed to just "finding multiple needles in multiple haystacks." So, moving towards computerisation is going to help us.
Another challenge we have is that Guam falls outside the Customs territory of the US which means that the delegation of the authority for the Customs enforcement side is delegated to the local government. If we were part of the federal Customs US and Border Protection service, we would have access to technology, mandated resources, people, and money. So, a lot of things that we are doing are still at the local level at the local government level which means we lack money resources mandates and all these other things. We kind of must build capacity in any way we can.
How has COVID-19 affected your operations?
We are currently operating at over 50% shortfall in our inspection services, and it impacts our capabilities at the border, it impacts fees we collect, as well as other special areas of specialized enforcement.
Guam Customs depends on the collection of passenger fees to run the organisation. We normally collect sufficient funding to be able to run the operations. From December 2019 to March 2020 there were little to no passengers. We went from collecting between USD$10 – $15 million to less than a USD$100,000 in one year. One of the things that we were challenged with was that we could not hire people as we don't have funds. Our funding source has been negatively impacted by COVID-19 and now the reduction of passenger's revenue collection at the ports.
We had to find a new way to operate in many areas and initially when the pandemic hit Guam Customs, we streamlined all operations at the airport. Only because we have other areas, we are trying to build up so this was an opportunity to build up in other program areas like canine enforcement, special enforcement, narcotics enforcement, research, and development but that still leaves the gap for having to provide officers at the border.
Imagine in a few months' time when passengers' arrivals go up. We would be put in a situation where we need more officers, during this pandemic we have moved resources around. The challenge is if one shift of officers were to get positive with COVID-19 we would have to close the whole shift and then they will have to go through testing protocols and they may need to be isolated. The challenge is to make sure we are safe, that we are maintaining social distancing and we are sanitising all the time.
Now we are starting to see new variants come in, the only plus side is that the new variants that have come in are less hurtful on the body then when COVID first hit but it still impacts us in being able to do pretty much anything cause we always have to be concerned about that especially for our small operating groups, for example the group doing narcotics enforcement if they were exposed, nobody else can take their place and we will be out of the three specialists that do the job.
We just must adjust anyway that we can. We are just constantly looking at improving and adapting our processes.
What would be your ideal job?
I'm not sure what would have been ideal. One of my hobbies is dealing with art. I used to be into drawing so I would have enjoyed being an architect. I think if I was not in Customs, I would have been in the field of architecture or engineering.
For more information, queries, or interview requests, please email MediaOCO@ocosec.org
About OCO: OCO is a grouping of 23 customs administrations in the Pacific region. It facilitates regional cooperation, information sharing and capacity building of its members with the overall target of supporting economic growth and improved border security in the Pacific.