Read this document in French:
Click on the language tab found at the bottom right of your screen and select French.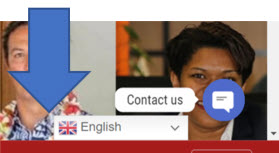 [27 March 2023, NADI] Heads of Customs and Senior Trade officials  from fifteen Pacific Countries convened in Fiji to explore ways of achieving trade facilitation reforms through digitalisation and cooperation among government agencies.
Organized by the United Nations Conference on Trade and Development's (UNCTAD) ASYCUDA Regional Office for the Pacific, the Supporting Trade Facilitation, Digitalization and Digital Transformation in the Blue Pacific workshop was officiated today by Fiji's Deputy Prime Minister and Minister for Trade, Co-operatives and SMEs and Communications, Honourable Manoa Kamikamica, UNCTAD Deputy Secretary General Mr Pedro Manuel Moreno and acting UN Resident Coordinator for Fiji, Solomon Islands, Tonga, Tuvalu, and Vanuatu, Mr Alpha Bah.
The COVID19 pandemic has accelerated global digital transformation, and developing countries now face a more urgent need for connectivity and digitalization. This is crucial for the Pacific region whose involvement in regional and international trade is limited by its isolation from the rest of the world, small population and domestic market, scarcity of natural resources, and vulnerability to natural disasters.
Hon. Kamikamica acknowledged that trade is a powerful engine for growth and development, and that it has the potential to drive poverty reduction and raise living standards across the region.
He further emphasised that trade facilitation is a top priority in Fiji's development agenda. "We recognise that, by streamlining our trade processes and reducing the time and cost of doing business, we can make Fiji a more attractive destination for trade and investment, and ensure that Fiji remains a competitive player in the global market," he added.
However, he recognized that improved trade facilitation cannot be achieved alone, adding that, "we need the support and expertise of technical experts and partners such as UNCTAD, to help us build the capacity and knowledge required to undertake trade facilitation reforms."
UNCTAD has supported the Pacific region in various areas, such as trade facilitation, customs automation, digital economy and trade analysis.
It has a long-term commitment to assist countries in modernising and automating their Customs processes.  2023 marks more than 30 years of ASYCUDA Regional Office for the Pacific's technical assistance in this part of the world.
Mr Moreno applauded Pacific governments' dedication to recognizing digitalization as an important tool for trade facilitation reforms.
"Trade facilitation reform and modernization of border agencies have been key for Pacific Island Countries to participate in and benefit more from trade. We are proud that our collaborations and partnerships have provided tangible outcomes which are pertinent to the discussions of this workshop."
Mr Moreno called on the participants from the region to exchange experiences and identify opportunities and synergies for the way forward.
The workshop will also serve as a forum for demonstrating UNCTAD's approaches to facilitating trade and addressing potential disruptions in a digital future.
Representation in the workshop is from Fiji, Cook Islands, Federated States of Micronesia, Kiribati, Marshall Islands, Nauru, Niue, Palau, Papua New Guinea, Samoa, Solomon Islands, Tonga, Timor Leste, Tuvalu, Vanuatu, Oceania Customs Organisation (OCO), Melanesian Spherehead Group (MSG), the Pacific Islands Forum Secretariat and the Pacific Community.
The workshop has been organized with the generous support from the Australian Department of Foreign Affairs and Trade (DFAT), New Zealand Ministry of Foreign Affairs and Trade (MFAT) and European Union.
__________________________________________________________________________
Media Contact:
Mubeena Shaheed
United Nations Conference on Trade and Development
Ph: +679 9781541
Email: mshaheed@asycuda.org