Suva, Fiji, 08 April, 2021- The Oceania Customs Organisation (OCO), supported by the Australia Border Force (ABF) is helping Fijian border law enforcement agencies prepare for the opening of borders by providing training on the use of the Pacific Small Craft App, that will assist in collecting data for small crafts such as yachts.
"Small crafts remain a high threat to all countries in the Pacific for a number of illicit activities, including the movement of weapons, drugs and people. Small crafts continue to be targeted by organized crime groups for the transport of illicit drugs," OCO head of secretariat, Richard Brennan said.
OCO and ABF are in Savusavu this week preparing border law enforcement agencies such as the Fiji Revenue and Customs Services, Department of Immigration, Biosecurity Authority of Fiji and the Fiji Police Force on the use of the app in anticipation of the sailing season from May to October.
The Pacific Small Craft Application (PSCA) was developed by ABF for the OCO members to improve the way small craft information is collected and shared within the Pacific. The 'App' has been gifted to the OCO Secretariat to administer and as part of the handover, Australia has committed to a rollout and sustainment program to assist the OCO, and other Pacific border agencies, in integrating the App across the region. The technology will leverage the analysis capability of movement of yachts in the Pacific, adding value to intelligence gathering on small craft and provide opportunities for proactive approaches for any suspicious craft movement.
"Fiji has opened its borders with strict guidelines to yachts and luxury vessels through the Blue Lane initiative. The app will be useful for the border law enforcement agencies in Fiji as we continue with our roles of keeping our borders safe," Mr Brennan said.
Fiji's COVID-19 Risk Mitigation Taskforce (CRMT) has approved Savusavu as a designated quarantine anchorage under the Blue Lane initiative of the Fijian COVID Safe Economic Recovery Framework.
In November and December last year, ABF conducted special training for Fiji Revenue and Customs Services and Department of Immigration officers based in the west as well as other OCO members.
"The training sessions will allow uniformity in Fiji on the use of the app, all ports of entry will be able to capture yacht movements directly on the app. We could also use Fiji as a model for PSCA expansion in the region within our 23 member countries."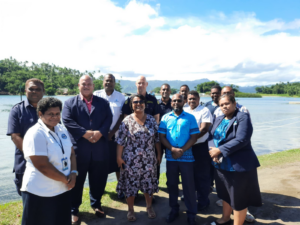 ENDS
For more information or for any queries, please contact the Secretariat or email: mediaoco@ocosec.org