Suva, Fiji, 31 March 2021- OCO chairperson Salvador Jacob says there has been progress, but more work still needs to be done to ensure gender equality in Customs administrations in the Pacific.
OCO ended its month-long celebration of the achievements of women through the Pacific Women in Customs series, which is a collection of feature stories of women in the profession.
The Pacific Women in Customs series was in collaboration with PACNEWS.
"It is not every day that we celebrate the efforts of customs officers in the Pacific, let alone their efforts to keep our borders free from the pandemic," Mr Jacob said. "And it is even rare to be celebrating the women who are in customs and who have chosen a career path in a male dominated industry, but we are changing that."
The series featured 17 women from 11 OCO member countries and the OCO Secretariat.
Samoa's Ministry of and Revenue CEO, Matafeo Avalisa Aviali-Fautua'alii women gave have been able to withstand the pressures and the demands of being customs officials because of their values learnt and adopted from parents and elders of families.
"There are no special exemptions or provisions for us women, as to sit in those leadership chairs, as that will not be square and fair to our male colleagues," she says. "If we are fighting and pushing for 'equality', then we must raise up to that challenge and step in on equal footings with our professional brothers at work."
Captain Barbara C Tayama who was one of the women featured said, "we are rightly impatient for greater representation of women in Customs including in the senior leadership ranks."
"We all have a story and within each story we have defining moments that defined who we are. Each of those moments bring a unique perspective to this incredible profession of women in Customs."
The women featured in the series were from Australia, Cook Islands, Commonwealth of the Northern Marianas, Federated States of Micronesia, Fiji, French Polynesia, Guam, Nauru, New Caledonia, Palau, Samoa, and Tonga.
OCO has now enforced gender equality in all its work programs following the endorsement of the Heads of Customs Conference in 2020.
"As we have seen, gender equality directly impacts organizational efficiency, economic growth, national and international law, and human rights," OCO Operations Manager, Irma Daphney Stone says. "In Customs, gender equality can provide improved saf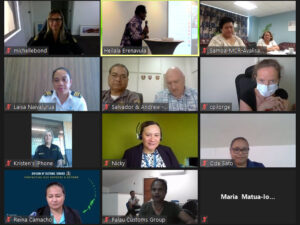 ety for traders, employers, women and men. It is an important part of the modernisation of Customs administrations and contributes to ensuring transparency and integrity. It provides a good working environment which leads to improved organizational performance and a positive impact on traders and the economy."
OCO marked it's International Women Day celebrations with a webinar on Women in Customs at the Holiday Inn in Suva Fiji. The webinar had participations from the OCO membership including staff from the Fiji Revenue and Customs Service, a representative from Pacific Women, the Pacific Islands Tax Administrations Associations, Mrs Koni Ravono and UN Women Deputy Representative, Melissa Stutsel.
The majority of OCO's programs in the region have been possible through the support of the Australian and New Zealand governments
For more information or for any queries, please contact the Secretariat or email: mediaoco@ocosec.org