Su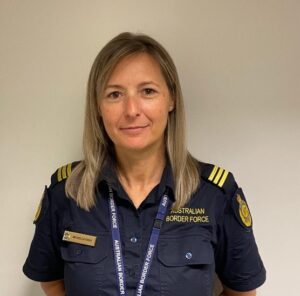 va, Fiji, 17 March, 2021 – Michelle Bond works for the Australian Border Force with extensive experience in Customs. The proud single mother of two is one of the women featured in the OCO/PACNEWS Women in Customs Series.

What are your current responsibilities?
Currently, I am supporting a national project aimed at disrupting organised criminal infiltration within the international supply chain and exploring/implementing pre-border intervention strategies to detect narcotics and other illicit goods offshore.
This national project is achieved by working closely with international law and border protection counterparts as well as through the United Nations Office of Drug Control – World Customs Organization Container Control Program (UNODC-WCO CCP).
I am also currently programme managing a Women's Professional Development Programme which is an ABF initiative, in partnership with the UNODC-WCO Container Control Programme (CCP) Women's Network.  The programme's aim is to develop and empower women in South East Asia & the Pacific CCP units to become effective leaders in the customs and border protection domain through the delivery of training and ongoing mentoring.
What is the biggest challenge you have overcome in your work?
One of the biggest challenges I have faced during my working career is the stigma of being a single parent working full time. I have faced prejudice in thinking early in my career, which resulted in not being provided opportunities and categorised incorrectly. I was able to overcome this by finding and making my own opportunities throughout my career. I have sought out training that would provide me the skills I needed to apply for positions of interest. I have worked hard, built solid networks/relationships and surrounded myself with strong effective colleagues and leaders that I respect, admire and can learn from. In 2011, I deployed to a district office in a remote town in Australia for a five-year posting. I packed up my household, moved over 3000 kilometers away from family and friends and settled my family into a new community. As part of a district office posting, there is a high expectation for officers to travel for work, training and offshore deployments. I managed these challenges by being resilient, forming friendships, being an active member of the community and saw the situation as a great opportunity for both my children and me. From this I was able to be an effective officer, attend training courses interstate, had the ability to deploy offshore when required and run operational activity proving that I could manage both working full time as well as being a single parent who didn't allow this stigma to affect my work.
How did it feel to overcome these challenges?
It has been very empowering to overcome these challenges. I feel that I have built resilience and confidence and from these experiences have become a more capable, stronger and professional individual.
How has these experiences at work helped you in your life?
Overcoming challenges at work have seamlessly transferred into my everyday life. The resilience and confidence I have grown have made me a better and stronger person not only in my professional life but in my everyday life also. Modelling these behaviours have enabled my children to develop these life skills from a young age.
How has your work changed under COVID-19?
As with many organisations globally, the way we work has had to be more flexible. As we have not been able to travel offshore due to border closures, we have had to make a few adjustments. The team has organised online tradecraft training sessions and presentations for hundreds of officers both nationally and internationally (Fiji, NZ, US). We have had to change communication strategies to build and manage partnerships with key stakeholders.
The original plan for the Women's Professional Development Programme was to deliver a face to face training course which was to be held in Thailand by May 2021. To ensure that the programme can be delivered in this financial year, an online delivery option has been negotiated with a world leading Australian tertiary education provider. Benefits to delivering the programme online include an increase in participant numbers (24 to 50) and offering women a positive, innovative and flexible chance to engage in professional development whilst borders remain closed.
Click Here for French Translation
ENDS
For more information or for any queries, please contact the Secretariat or email: mediaoco@ocosec.org
Our Gender Program: In 2019, the OCO held its inaugural Change Management on Gender Equality workshop, which suggested there should be gender equality on all aspects of OCO's work program. This suggestion was endorsed at the 2020 OCO Annual Conference. In 2020, OCO member countries were encouraged to celebrate the International Women's Day in their own administrations and to share their activities widely. This year, OCO is dedicating the month of March to our women. The Pacific Women in Customs Series is a collection of stories of women who are working in Customs in their various countries and we hope to inspire more women to join this field of work.