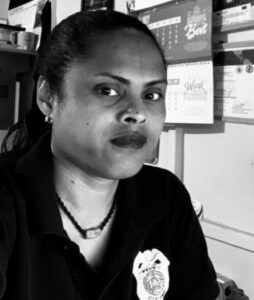 Suva, Fiji, 29 March, 2021. Palau's Bureau of Customs and Border Protection relies on Joline Spesungel for any IT related work. Joline has been working for the Bureau of Customs and Border Protection for the last 21 years. She is now in charge of the IT section. Joline is one of those featured in the OCO/PACNEWS Pacific Women in Customs series.
 Times are changing in Palau, says Joline. She meant that more women are now choosing to work and earn an income then it was some time ago.  When Joline started her career with Palau Customs, she was one of the few women specialising in information technology.
"I was very shy at first because at that time people thought only boys should be doing that kind of work. I would often get embarrassed if I had to, get under the table to fix network cables with all men around me or when there were customers around. But I got used to it and I am no longer shy."
On a routine day, Joline starts her morning fixing computers, checking the network and ensuring that Palau Customs is online and functioning.
Joline is also given duties that are not part of her role such as providing Customs statistics for national planning or for stakeholders to use; revenue audits and reconciliation of Customs revenue and national revenue. She also trains stakeholders on the use of Customs systems.
It is for this reason she has been often referred to as an example of a good role model. She has also been described as "highly dependable and productive in terms of assisting with daily office operations and regulatory support. She is passionate about her work and requires no supervision."
COVID-19
Palau is one of the 12 countries in the world that is still COVID-19 free.
"There has not been much change except that we only have one cargo flight per week now. Otherwise, there has not been much change at Palau Customs. We are getting almost the same volume of trade as before the pandemic."
But that does not mean that Palau Customs or in this case Joline has not prepared, in the event they do have a case.
Joline has an online electronic Customs clearance process that will be activated to minimize physical contact.
"When I started work, it was a bit challenging as I was in a male-dominated field but I didn't let it get to me, I worked harder."
The mother of three has an advice to women- "Don't limit your challenges, Challenge your limit"
Click Here for French Translation
ENDS
For more information or for any queries, please contact the Secretariat or email: mediaoco@ocosec.org
Our Gender Program: In 2019, the OCO held its inaugural Change Management on Gender Equality workshop, which suggested there should be gender equality on all aspects of OCO's work program. This suggestion was endorsed at the 2020 OCO Annual Conference. In 2020, OCO member countries were encouraged to celebrate the International Women's Day in their own administrations and to share their activities widely. This year, OCO is dedicating the month of March to our women. The Pacific Women in Customs Series is a collection of stories of women who are working in Customs in their various countries and we hope to inspire more women to join this field of work.