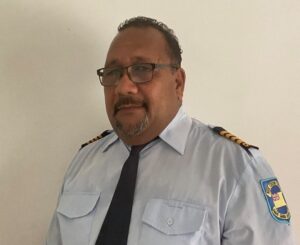 Suva, Fiji, October 13, 2021– As head of one of the smallest Customs administrations in the region, it comes as no surprise that Sione Sionetama is well known in Niue. But that doesn't make his work any easier as he also becomes the unpopular guy when it comes to tax collection. Mr. Sionetama is one of the experienced Customs officers in the region, who has been around even before the Oceania Customs Organisation was established. With a Masters in Customs Administration from Charles Stuart University, he likes to leisure in reading, fishing, hunting, gardening, and watching sports. His spiritual wellbeing is very important to him and he loves to attend church.
What is the best part of your job?
The opportunity to serve people. Serving is the bottom line of every public servant in terms of what we bring into the work place and what we believe in serving our community and country as a public servant. Also, the opportunity to meet a lot of people- I think I have made a lot of friends in the region and internationally through my work. But because of the nature of my job, sometimes, I also must prepare to cop some flak from members of the community.
What is your vision for your Customs administration?
Like any other administration, we strive to improve to be more efficient with the limited resources that we have. We want to improve our services, processes and procedures to be on the level with other Customs administration. Even though we are small, and it could be difficult and challenging to implement Customs related international conventions and best practices, such as the Revised Kyoto Convention, World Trade Organization (WTO) conventions and processes; and other international organizations.
If we can be on par with other Customs administrations in implementing some of these important Customs related processes in trade facilitation, revenue collection and border security measures and contributed to Niue's long term strategic vision, I believe we can say we are doing well.
How has COVID-19 changed the way your administration operates?
Even though we haven't recorded any COVID cases on the island, like every other Pacific Island we have put in place border restrictions and very limited travelling which means it triggers down to what we collect as revenue.
As the number of visitors to the island decreases, the economic activity decreases and in turn the imports are reduced, and our revenue collection is also reduced. So, there's a negative impact on some of the revenue lines. But there are some positives, because of the downtime due to COVID-19, some of my staff have now taken the opportunity to build personal capabilities by taking online tertiary training. I have three staff that have completed their MBA both face to face and online studying at USP. So, there's always an opportunity to do other things.
In saying that- we are revenue collectors and we still need to meet our budget revenue targets. What we collected is crucial to meet the expenditures of the national budget. There are pros and cons of the pandemic but fortunately for us, we don't have any case of COVID-19 on the island so far.
What are some of the critical challenges your administration faces?
Meeting our revenue targets- the impact of the closure of borders has affected consumption rate and there is negative trickle on effect on the revenue collection. Some of our programs such as the implementation of the Automated Systems for Customs Data (ASYCUDA) project have been rescheduled because we need the technical experts to be on island. Our legislations reforms and legislation work have also impacted as we need the overseas-based experts to be on the island as well.
It is always a challenge for a small Customs administration to implement changes and reforms at the same time providing normal services to its customers with a human resource of six full time staff.
If you were not head of a Customs administration, what would have been your ideal job?
Probably, in other related law enforcement fields. I have to say I have grown to appreciate working around the law enforcement environment. I think I have the natural "mana" to be a  law enforcement official…not because I have a large build…(lol) It is quite a satisfaction that I can contribute in some form and way in providing a sense of security and prosperity to the community because of the work I do.
For more information, queries, or interview requests, please email MediaOCO@ocosec.org
About OCO: OCO is a grouping of 23 customs administrations in the Pacific region. It facilitates regional cooperation, information sharing and capacity building of its members with the overall target of supporting economic growth and improved border security in the Pacific