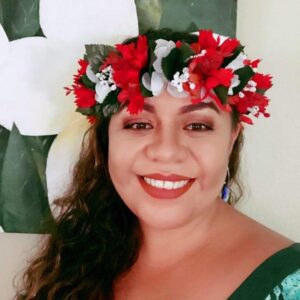 Suva, Fiji, 23 March 2021 – In an organization, there is always that one person who everyone goes to get things done. At the Oceania Customs Organisation (OCO), that person is Stephanie Waqanivavalagi who is the "trouble-shooter" making sure operations run smoothly.
This is her story.
Life's experiences
Growing up in a family of six girls, Stephanie believes her life's experiences prepared her for every possible encounter in the workplace. "I believe my sisters and I are all uniquely different. Contrary to popular belief, we seldom argued although equally opinionated and tenacious in our own views, we somehow found a way to coexist without driving each other up the wall." But it is her mother Finau Tivakano, a former news anchor woman for Fiji Television, who has taught her life skills. "There was never a dull moment with her, she'd often spend hours with us on our front porch teaching us the 'ukelele' or guitar, singing and telling folk tales of her island home Rotuma (North of the Fiji group). "She was an excellent listener who took the time to hear our views and aid us in navigating our way through life's challenges. In her eyes there was simply no substitute for hard work and respect, but self-expression was always something she encouraged to be able to know your own identity and not be fearful to express it respectfully." Being a family of girls, Stephanie recalls one time after church when one commented how unfortunate her parents were as they did not have a son. "This took us by surprise as we were never made to feel 'less' than boys. With a smile on her face, my Mum responded, "My girls have been too much of a joy and a blessing in our lives, we've not had the time to wish for otherwise". Now a mother herself, Stephanie believes nothing in this life should be taken for granted and every chance to show kindness should not go to waste. "Living a purposeful life like that of Christ can only yield fulfillment and true genuine meaning that we each have been called to regardless of our who we are or where we come from. There is a purpose for which we exist and to this very day, I am still learning mine."
Current role
As an executive assistant, Stephanie's daily responsibilities include supporting the OCO Head of Secretariat, management team and staff providing administrative support to coordinating activities. "I am often required to liaise with OCO's 23 member countries on planned activities such as workshops and meetings as well as supporting the Steering Committee during meetings. "As a first point of contact with our partners and other organisations, I am a firm believer of managing the perception of any visitor by maintaining an attitude of service. Similarly when visiting a new country, we want to be treated respectfully and have our needs heard and attended to, at the Secretariat it is part of my job to ensure you 'our members and partners' are made to feel welcome and provide the necessary support in my capacity as the executive assistant."
Overcoming challenges
Things can be stressful for Stephanie on days. But for her managing her reaction to stressful situations whether it be a delayed response from a vendor or a follow up with no end in sight is very important. "Maintaining professionalism with a side dose of firmness can often resolve matters that would otherwise tarry. "Understanding the policies and guidelines that dictate our work is imperative in confidently carrying out one's duties while maintaining a mindset of 'learning' even in areas considered foreign to you, my advice is to read, read and read! "It is not enough to simply know a bit about a subject, I believe in immersing myself into learning as much as I can to get ahead of the task entrusted to me. "What do you have to lose? You learn something new and grow your vocabulary." With a mindset that from every difficult situation there is always a lesson to learn and grow from. Stephanie also believes in 'self-talk' because "there will always be opposition and we simply can't allow the negativity to induce even an inkling of self-doubt". "Take for instance how young girls and even women are considered beautiful if they are slim like models or celebrities in the tabloids and on every advertising gimmick we see, this is a farce because we all know beauty comes in all shapes and sizes and women should be celebrated for their intellect and tenacity in being able to weather the storms of life while still holding her own in the family and work place."
COVID-19
As with countless others around the region, COVID-19 has proven unfamiliar territory for many, it will take some time to navigate through our 'new normal' which has become the 'normal' for many Pacific island countries. Much of OCO's activities and communications is carried out virtually or online and with this change comes a much-needed adaptability to be able to function and progress in an otherwise 'stalemated' situation. "My work now requires me to familiarise myself more regularly with new technologies and practices that support online communications and engagement with members, partners and stakeholders while maintaining relevance for the benefit of our greater membership. "However, if there is one learning that I take away from this global crisis, it is the ability of Pacific Islanders to remain resilient in times of uncertainty and to show genuine kindness in the face of adversity."
Click Here for French Translation
**ENDS**
For more information or for any queries, please contact the Secretariat or email: mediaoco@ocosec.org
Our Gender Program: In 2019, the OCO held its inaugural Change Management on Gender Equality workshop, which suggested there should be gender equality on all aspects of OCO's work program. This suggestion was endorsed at the 2020 OCO Annual Conference. In 2020, OCO member countries were encouraged to celebrate the International Women's Day in their own administrations and to share their activities widely. This year, OCO is dedicating the month of March to our women. The Pacific Women in Customs Series is a collection of stories of women who are working in Customs in their various countries and we hope to inspire more women to join this field of work.